Busy times for us!  Here's a quick accounting of recent and upcoming ZAPP happenings ('zappenings'?).
recent past:
On Feb. 21st ZAPP officially became a recognized non-profit by the Office of the Secretary of State of Washington.  Woohoo!!!!!  (Ahem.)
On March 4th we put out our very first press release.  Think of it as our State of the ZAPP address!
near future:
Don't forget our party tomorrow night!  Hope to see you at ZAPP Is Alive, Long Live ZAPP at Vermillion Art Gallery and Bar (on Capitol Hill) at 7pm!
On Sunday, March 16, we'll be back on Hollow Earth Radio.  Tune in at 2:30 p.m.!
We are finalizing plans to launch regular drop-in hours later in March.  Drop-in sessions will be a way to replace the workspace portion of our open hours — stop by to hang out with the ZAPP community and work on your current project.  We'll be able to reveal details in a day or two!
And here's what it looks like when you box up a zine archive.  This is 100 boxes, which is not at all the full collection: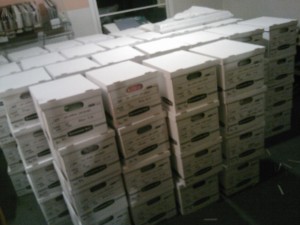 100 boxes of zines on the floor, 100 boxes of zines…..