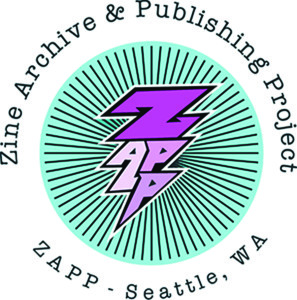 The Zine Archive and Publishing Project (ZAPP) is a volunteer-driven living archive of over 30,000 self-published materials. ZAPP is a DIY resource and educational center committed to supporting underheard voices from around the world, maintaining and validating publications outside the literary mainstream.
ZAPP is dedicated to building a strong community of self-publishers and championing freedom of expression in Seattle and beyond.
Founded in 1996 by Gary Greaves, Annie Fanning and Chuck Swaim as a program of the Richard Hugo House, ZAPP is now an independent organization operating under the fiscal sponsorship of Shunpike.
Seattle Public Library is generously storing our zines while we work toward securing a permanent space. Please note that the collection is not accessible to the public while it is in storage at SPL.  If you would like to help bring this amazing collection to the public and support our current efforts to achieve this, please visit our Support Page or  donate today.
Keep in touch!
Facebook * Twitter * Tumblr * We Make Zines * ZineWiki * Instagram * Soundcloud * Medium